Come join us on Thursday, 1/14/2021 at 7 pm PST for the first meetup of the year. Making high quality, accessible web applications is becoming more and more important to web applications. The laws, regulations and standards are affecting how businesses develop and improve digital experiences for all users. Sighted mouse users of web applications take the ability to quickly narrow in and focus on content. But users of assistive technologies like a screen reader need a different pathway.
Join Matt for an overview of what the skip link is and the problem it solves to make high quality digital experiences for users who use assistive technologies like the screen reader.
He will demonstrate a real world working example using a Vue component that implements the required behavior.
This meeting will be held on Zoom, so please be sure you have a Zoom account.
We will not be allowing anyone without Zoom accounts to join the meeting for safety reasons.
Please register for this meet beforehand via this link: https://zoom.us/meeting/register/tJwuf-qvpjguHNyKVogVqhVA8_–UkwUm_5H
After registering, you will receive a confirmation email containing information about joining the meeting.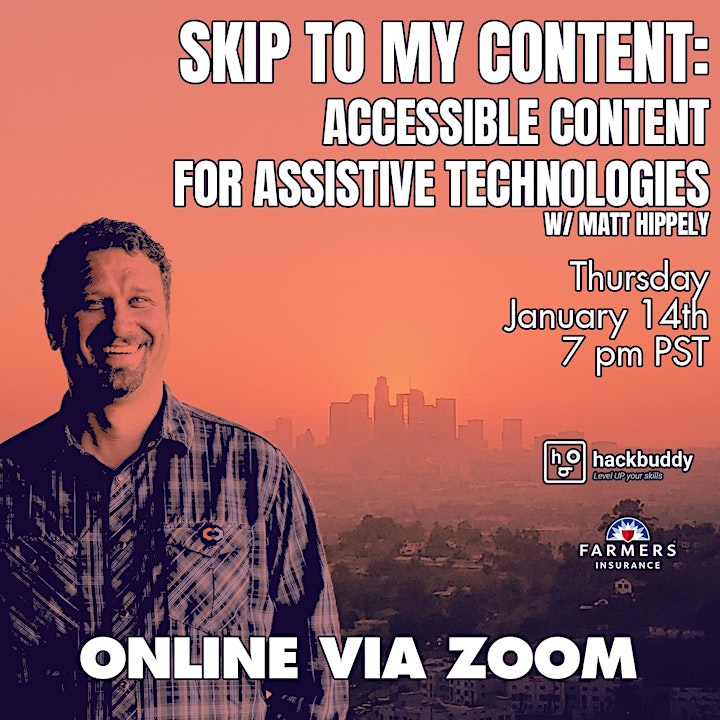 About the Presenter:
Matt Hippely is a UI Engineer at VMware, Inc. He works on the Angular Components for the Clarity Design System, (http://clarity.design) for VMware Design. He is passionate about all things tech and enjoys engaging with other engineers to discuss and debate languages, tooling, architecture and beer. He is the organizer of the Westlake Village JavaScript Meetup (https://www.meetup.com/Westlake-Village-JavaScript-Meetup/) to provide a JavaScript focused group in the Conejo Valley.
____________
This ONLINE event is hosted by Farmers Insurance Group, an American insurer group of automobiles, homes and small businesses and also provides other insurance and financial services products. Farmers Insurance has more than 48,000 exclusive and independent agents and approximately 21,000 employees.
Want a career at Farmers as a web developer or software engineer?
They are hiring!
Visit: https://farmers.com/careers for more info.