RSVP with Eventbrite to be on the GUESTLIST: https://www.eventbrite.com/e/hands-on-workshop-create-build-and-run-a-serverless-app-wdavid-nugent-tickets-79020605759
Hi JavaScriptLA fans, we have a very exciting talk about Serverless computing.
Serverless computing refers to a model where the existence of servers is entirely abstracted away. Even though servers exist, developers are relieved from the need to care about their operation. They are relieved from the need to worry about low-level infrastructural and operational details such as scalability, high-availability, infrastructure-security, and other details. Serverless computing is essentially about reducing maintenance efforts to allow developers to quickly focus on developing code that adds value.
We will work through three labs in this session:
Lab1: Create, build, and run a cloud-native Node.js serverless app in less than 15 minutes
Lab2: Create, build, and run a cloud-native Python 3 serverless application that uses the Visual Recognition service to determine image content
Lab3: Create, build, and run three serverless functions as a sequence
We will use Apache OpenWhisk to run through the labs. Openwhisk is an open source, distributed Serverless platform that executes functions (fx) in response to events at any scale. OpenWhisk manages the infrastructure, servers and scaling using Docker containers so you can focus on building amazing and efficient applications.Key concepts introduced will include triggers, rules, actions, composition and event driven architecture. Finally, serverless is relatively new and we will look at what the shortcomings are with the current technology and how to mitigate them. * Remember to bring your laptop!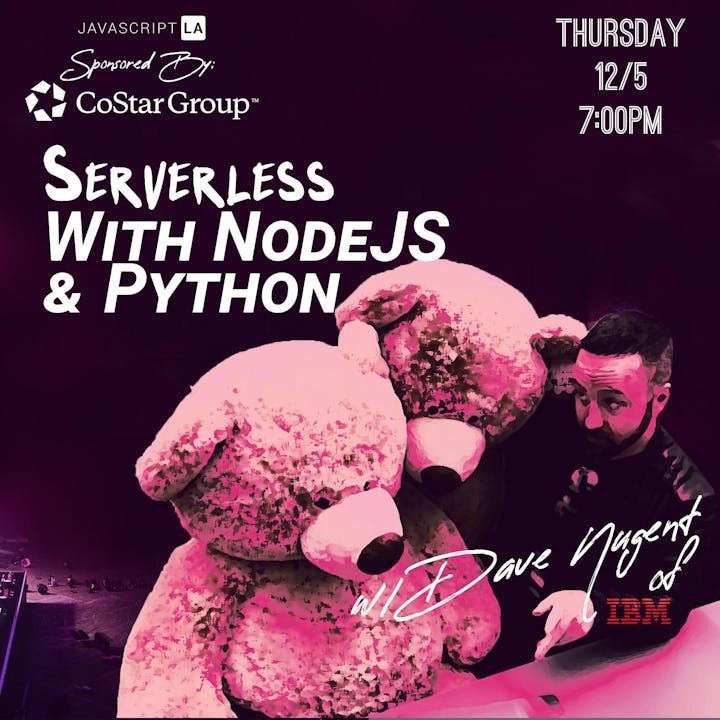 About the Presenter:
Dave Nugent (http://twitter.com/drnugent) is an IBM Developer Advocate for Cognitive, Data and Analytics who currently runs the ForwardJS conference and SF JavaScript meetup In his free time he likes debugging JavaScript code and eating donuts.
Find out more about our past and upcoming meets at:
Vijay recently wrote a book on ES6, for anyone who'd like a guide to all the new syntax. You can get it for free if you are on Kindle Unlimited, and it's $9.99 if you want to purchase it.
We also have a video course to go along with the book now available in a very SMALL & limited promotion, if you use the coupon code PREVIEW the course is $20.
https://hackbuddy.teachable.com/p/roadmap-to-es6/
Location:
CoStar Group in COSTA MESA
3161 Michelson Dr #1675,
Irvine, CA 92612, USA
CoStar is located at 3161 Michelson Dr., Suite 1675, Irvine, CA 92612 (we recommend using google maps, as waze has taken candidates to the wrong location).
When you enter the building, the first row of elevators on your right will take you to the 16th floor. You'll need security to activate the elevators to our floor if you are arriving after 6:00 pm. Let security know you are part of the JavaScript LA/OC meetup group at CoStar Group.
There is a parking structure/garage located next to the building (3151 Michelson), you can park in visitor parking or spots that are not marked as reserved. We will validate your parking before you leave.
If you have any questions or need anything, do not hesitate to reach out to Rachel Logan by email (rlogan@costar.com) or cell (202-339-1833).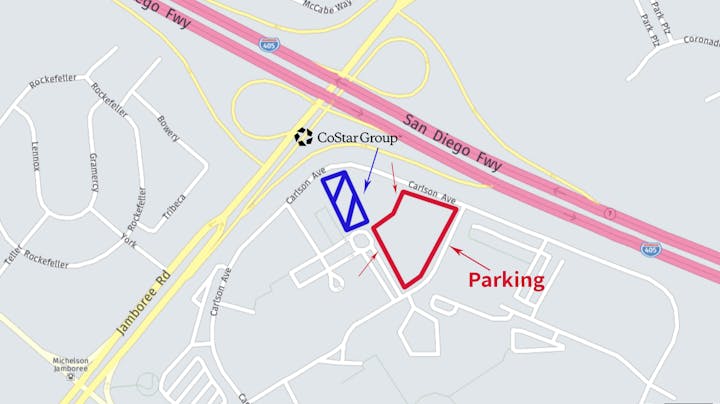 Thanks to CoStar Group for providing us with the venue, food and drinks.
CoStar Group, Inc. (NASDAQ: CSGP) is the leading provider of commercial real estate information, analytics, and online marketplaces including Apartments.com and LoopNet.com
Forbes named CoStar Group one of the World's Most Innovative Growth Companies for 2017 – the fourth consecutive year. Additionally, CoStar was named to the Forbes Fast Tech 25 list, which recognizes technology companies with the highest three-year sales averages. Membership on these distinguished lists highlights CoStar's continued dedication to revolutionizing commercial real state and multifamily industries by providing innovative software and solutions.
CoStar Group is currently Hiring! Connect with us for further info!
Join Us Online To Discuss This Meetup
Subscribe on Youtube (View Past Meets & Tutorials)
http://www.youtube.com/c/javascriptla
Join Us On Facebook
https://www.facebook.com/groups/javascriptla
Follow Us On Twitter
https://twitter.com/javascriptla
Support Us on Patreon
https://patreon.com/javascriptla
Interested in Sponsoring?
Please contact us at info@javascriptla.net if you would like to be our sponsor (provide drink, food, raffle gifts) in return for promotion / speaking time. You can also reach us on Slack for faster communications (please message @vijay or @marko).
By registering for our events, you agree to be also included in our mailing list for upcoming news, events and announcements. You may opt out at anytime if you choose not to want to hear about important announcements from JavaScriptLA and/or its partners. By attending our events / participating in discussion, raffles, Q&A: you consent to photography, audio recording, video recording and its/their release, publication, exhibition, or reproduction to be used for promotional purposes, advertising, inclusion on websites, social media, or any other purpose.