Register in advance for this meetup via Zoom:
https://us06web.zoom.us/meeting/register/tZMrcumrqT4pGNO1s_XYTRKlIRdSB5Wf7A08
After registering, you will receive a confirmation email containing information about joining the meeting.
In this Three.js Meetup, we give a brief introduction to three.js. With three.js, you no longer need a fancy gaming PC or console to display photorealistic 3D graphics. You don't even need to download a special application. Now everyone can experience stunning 3D applications in the palm of their hand using nothing more than a smartphone and a web browser.
In this Meetup, we hope to get closer to some answers as we develop our Three.js skills, inspire each other and, hopefully, lay claim to our share of the wide-open real estate that is currently the vacant and undeveloped 3D Web.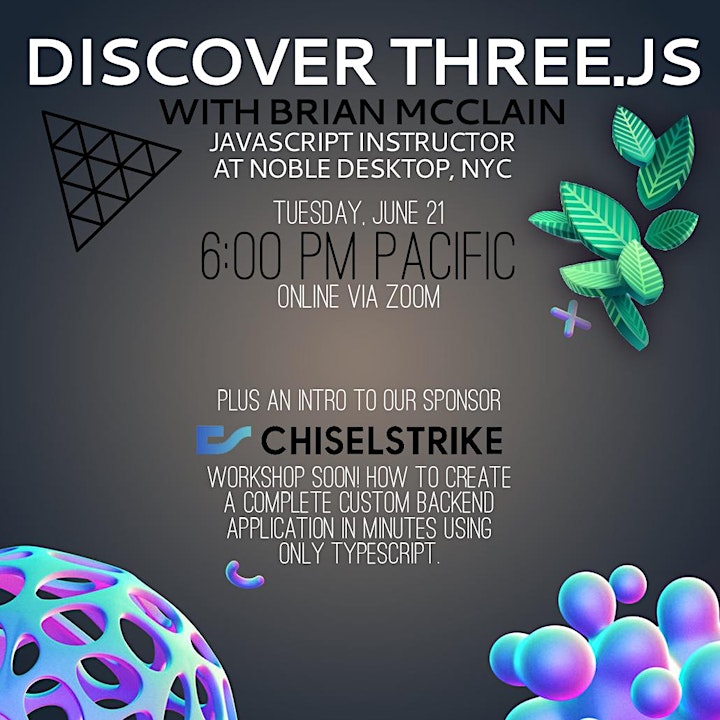 About the Presenter:
Brian McClain is a JavaScript instructor at Noble Desktop, NYC. He grew up in upstate NY and is a graduate of Duke University. His early professional experience includes living in China from 1995-98, where he was partner and Art Director for Beijing Scene newspaper. Brian spent the early 2000s in Ecuador, doing website work, editorial and video production for a tourism company.
After returning to the U.S., Brian did doing web dev, illustration and animation work, mainly freelance, while also teaching these and other subjects for NYC career schools. Brian was an Adobe Certified Expert (ACE) in Flash (remember that?) when in 2010 he came upon a 3D ActionScript 3.0 Library called Away3D. Fascinated by its potential, he developed a hugely interactive, awesome 3D CMS called 3Doozy–just in time for Flash to get cancelled by iOS and die altogether shortly thereafter! Brian portaged his AS 3.0 coding skill over to JavaScript and moved on .. But then along came ThreeJS which brought most of the cool 3D in the browser features of Away3D into JS, no plug-ins required–just the ThreeJS library and enough time and patience to master its many features: Shapes, Scene, Camera, Lighting, etc. But then, the worm turned again, as 3D in the browser started to lose favor with the rise of AR-VR and now, the Headset and FB's Metaverse.
Brian basically put the 3D onto a back burner of R&D and tinkering, and continued to work in other web dev and instructional capacities, serving as Director for a leading JS-centric coding bootcamp in NYC and later as Adjunct Professor of Data Science and Machine Learning at Westchester County College. In January 2022, he joined Noble Desktop, where he teaches web development, develops curriculum and continues to noodle with ThreeJS on the side.
Brian is pleased to provide this introduction to 3D in the browser with ThreeJS.
_____________________________________________________________________________________
This event is sponsored by ChiselStrike.
ChiselStrike provides everything you need to handle your backend, from the data layer to the business logic, wrapped in powerful abstractions that let you just code and not worry about handling databases schemas, migrations, and operations again.
It allows you to declaratively specify compliance policies around who can access the data and under which circumstances.
Your ChiselStrike files can go into their own repo, or even better, into a subdirectory of your existing frontend repo. You can code your presentation and data layer together, and turn any frontend framework into a full-stack (including the database layer!) framework in no time.
ChiselStrike will be doing a Workshop Soon! How to create a complete custom backend application in minutes using only TypeScript.
We strongly encourage you to join their DISCORD Channel and learn how to handle your backend, from the data layer displayed on the frontend. https://discord.com/invite/GHNN9CNAZe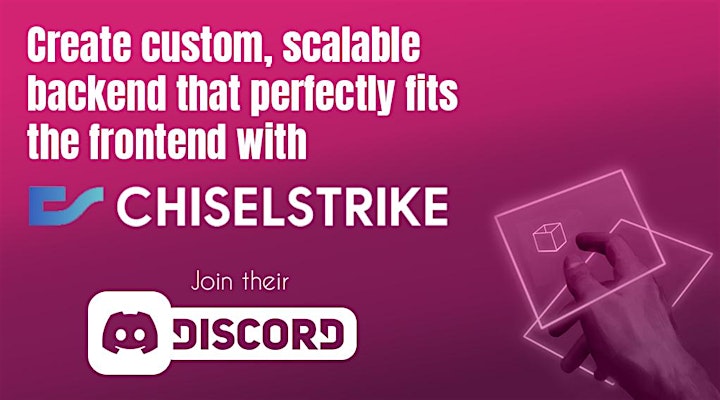 Stuck at Home?
MASTER ES6 WITH US.
Learn the new industry standard of coding in Javascript.
Six hours of video content!
Improve yourself while under lockdown!