Register in advance for this meetup via Zoom:
https://zoom.us/meeting/register/tJEldeysrjMvH9wXbKOUF3NVzvGU4hIlyVw7
After registering, you will receive a confirmation email containing information about joining the meeting.
Design tools are fast and amazing tools for thought, but for a host of reasons are limited to creating drawings rather than production assets. Engineers must instead re-create surfaces from scratch, by hand, using code. This inevitably leads to discrepancies and back-and-forth with the design team, and ultimately two sources of truth that are never truly in sync.
Plasmic is a tool to build UIs visually, currently in heavy development. It loosely resembles a design tool and aims to give the same sense of speedy iteration, but is for building maintainable, production-ready presentational components. The idea is to give developers a better and faster development experience, eliminate an entire class of visual bugs/QA/tooling, and ultimately maintain a single source of truth with design.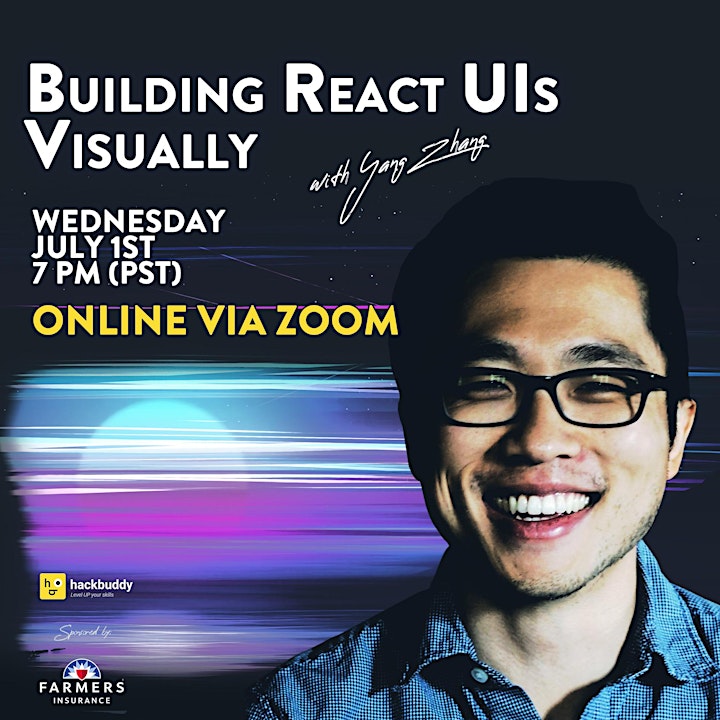 About the Speaker:
Yang Zhang had an early career in distributed database systems and machine learning, but discovered a passion in creating tools that directly touch and empower users. His time with React and JS has seen him build things from complex spreadsheet software to massively multiplayer real-time browser games. He is now building Plasmic full time.
____________
This ONLINE event is hosted by Farmers Insurance Group, an American insurer group of automobiles, homes and small businesses and also provides other insurance and financial services products. Farmers Insurance has more than 48,000 exclusive and independent agents and approximately 21,000 employees.
This meet will be hosted via Zoom and is scheduled for Wednesday 07/01 at 7pm PST.

Stuck at Home?
MASTER ES6 WITH US.
Learn the new industry standard of coding in Javascript.
Six hours of video content!
Improve yourself while under lockdown!