Register in advance for this meetup via Zoom:
https://us06web.zoom.us/meeting/register/tZUrc-upqTwoHN3pz5fb54Qlj8CJbOuZdb5x
After registering, you will receive a confirmation email containing information about joining the meeting.
SwiftUI is Apple's newest framework for building iOS applications. It uses the best features of the Swift language to enable writing performative, declarative code. If you've ever wanted to build your own iOS applications, now is an excellent time to get started.
In this workshop, you'll start from a blank project and build your own quiz application from scratch using SwiftUI. You'll add views to your app, customize them using view modifiers, use state to change UI, build models and view models using MVVM architecture, and add navigation to display different views.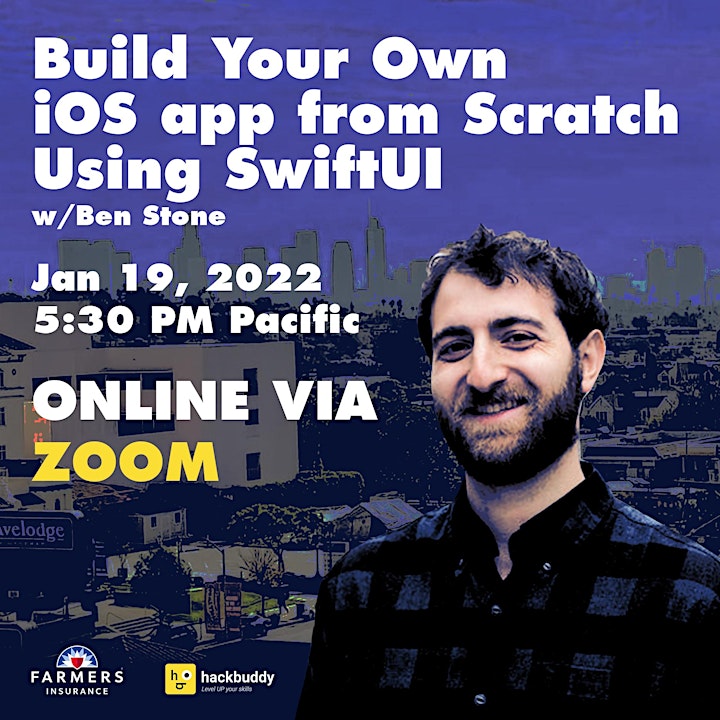 About the Presenter:
Ben Stone is a Senior Curriculum Developer at Codecademy. He focuses on building mobile development content like Learn Intermediate Swift and Build iOS Apps with SwiftUI.
Before Codecademy, he started out as a Middle School Math Teacher at Teach for America. After that, he worked as a Program Manager, iOS Instructor, and Director of Curriculum a non-profit coding bootcamp, where he taught himself how to code. He has also worked at a point-of-sale company as an iOS developer. He has a B.A. in Philosophy and Chinese from Williams College.
____________
This ONLINE event is hosted by Farmers Insurance Group, an American insurer group of automobiles, homes and small businesses and also provides other insurance and financial services products. Farmers Insurance has more than 48,000 exclusive and independent agents and approximately 21,000 employees.
Want a career at Farmers as a web developer or software engineer?
They are hiring!
Visit: https://farmers.com/careers for more info.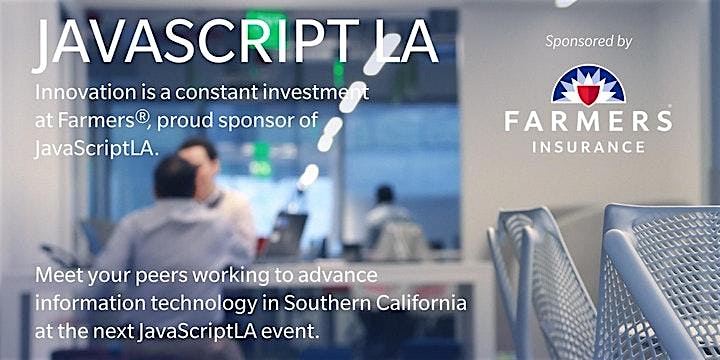 Stuck at Home?
MASTER ES6 WITH US.
Learn the new industry standard of coding in Javascript.
Six hours of video content!
Improve yourself while under lockdown!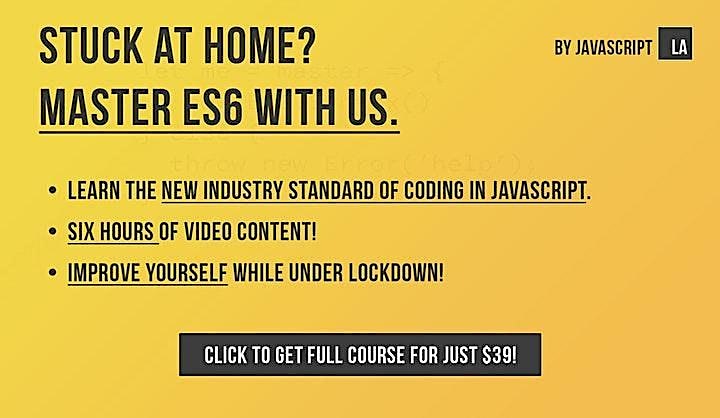 GET THE FULL COURSE FOR JUST $39!
https://www.udemy.com/course/guide-to-es6-syntax-in-javascript/